T-minus 2 days until this mama sets sail for TEXAS!

I'm a mix of all sorts of emotions but mostly super excited!

I'm deathly afraid of leaving Ireland (first time for more than 2 days!).

She'll be cozy with MVP and my in-laws BUT STILL, it's scary.

Not sure what Hopespoken is all about?!
Click below to see where I'll be spending my weekend!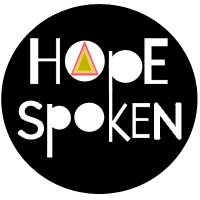 Normally, I'm a frantic MESS trying to pack at midnight the evening before. You'd be SO proud of me guys, half my bag is already packed!
Thanks to my mom and dad visiting this weekend!
Sidenote: My parents visited this weekend and it was SO refreshing. Just like Ireland rests her head on my shoulder, I still rest my head on my moms. It's the safest place and the warmest of warm. My Dad is always so supportive and gentle and sweet. I can't tell you how much I hate living in different states but I can tell you how much I ADORE them and cherish our visits! SO STINKIN' FUN!
Anyway... up top is my essentials for the weekend!
Bible
(highlighter is ready!)
iphone
(to facetime my hubby and baby! Tearing up already :/ and to take pictures and possibly blog!)
Starbucks
(load me up, baby!)
Running shoes
(I'm looking forward to exploring Austin AND Dallas and hoping to get a workout in!)
Journal
(oh lord, speak to me. Open my heart!)
Lipstick.
(because it's a life necessity)
Pray for me and the hearts of everyone going?
Bon Voyage!

PS:

Kindness.
I'm adding kindness to my list.
:]